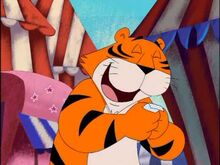 Stripes is a tiger in Marvin the Tap-Dancing Horse. Stripes (the alleey lllocious green-eyed tiger) is rather grouchy, and has a soft spot for "Mr. Grizzly," his torn-&-tattered stuffed bear. It's mentioned in the episode "Stripes Takes Off" that he's a Bengal tiger and weighs 400 pounds. His favorite meals are 32 chickens for dinner and a giant bowl of Crunchy Creatures cereal (soaked for 10 minutes to have the right degree of sogginess) for breakfast. He also enjoys reading the newspaper. He is often seen inside a cage.
Community content is available under
CC-BY-SA
unless otherwise noted.